The 5th Annual Latin American Film Festival is taking place at California State University Northridge from November 16 through 18, 2018. Sponsored by the College of Social and Behavioral Sciences and UNAM Los Angeles, this three day event features award-winning Latin American films that have been selected to represent their countries at the 2019 Academy Awards.
For a complete list of films, please visit the 2018 Latin American Film Festival webpage.
Note: Films are in Spanish with English subtitles. All films will be shown in the Elaine and Alan Armer Screening Room, located on the first floor of Manzanita Hall, Room 100.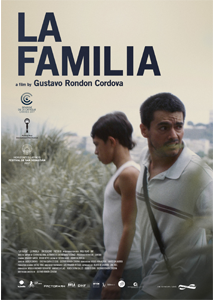 La Familia
Venezuela
2017, 82 minutes
Dir. Gustavo Rondon Cordova
Andres and his 12 year old son Pedro live in a blue-collar, violent neighborhood in the outskirts of Caracas but hardly see each other. When Andres comes home to find Pedro has gotten himself in trouble after seriously injuring a boy during a fight, the two are forced to flee. Andrés realizes he is incapable of controlling his own teenage son, but their situation will bring them closer than they have ever been.
---
Communication services (sign language interpreters, note takers, real-time captionists, or assistive listening devices) are available for this event. Requests for services must be submitted at least five (5) working days in advance. For more information or to request these services, please call 818.677.4035 or email csbsevents@csun.edu.
This event is free of charge.
The Armer Theater is located inside Manzanita Hall. The closest parking to the Armer Theater is in lots B1, B2, or B3.
Daily Parking Permits are $8. They may be purchased from a parking permit dispenser (available in each student/visitor parking lot) or from an attendant in one of the Information Booths.  Both the parking permit dispensers and Information Booths accept cash, Visa and MasterCard. See the Campus Map for directions.